Elaine Connell also maintains the Sylvia Plath Forum
Sylvia Plath: Killing
the Angel in the House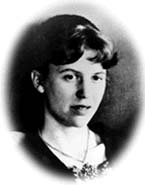 Much has been written about the tragic life of Sylvia Plath; rather less about her work. Elaine Connell's book has been composed as an introduction to the work of this controversial poet, a book which can be read and understood by the general reader.
Sylvia Plath, who was married to Poet Laureate Ted Hughes, gassed herself 30 years ago in 1963. Elaine Connell, whose father also gassed himself, made the work of Sylvia Plath the subject of her MA thesis. Ms Connell first became interested in Sylvia Plath twenty years ago when she realised how much in common she had with her and how Plath's poetry echoed many of her own experiences and inner feelings.

Elaine Connell explores some of the controversies which have surrounded Plath's work. Are feminists right in claiming her as one of their own? Or should her poetry been seen as a product of fifties femininity? Plath was keenly interested in Robert Graves' White Goddess and his conception of the Great Goddess. Ms Connell explores how these ideas might have affected her work.

The book's title has been taken from an essay by the Bloomsbury group writer, Virginia Woolf. She said that if women were to achieve as writers they had to escape from their traditional nurturing and domestic role and "kill the angel in the house".